Welcome to my new blog! I'm excited and quite frankly, a bit nervous, too. There have been so many times I wanted to share some tips and info quickly, but didn't have a forum for it. Now I do, along with the scary part—being able to share my thoughts and experiences immediately. The scary part is that my blog will be "out there" for everyone to read and judge. (tap, tap, tap) Sometimes I don't hold back when sharing what I've learned and most people like that, but some don't. It's all good.
This will be a blog with many different themes, but all centered around the emotional, physical, behavioral, and mental well-being of all animals, great and small. I'll be sharing stories of what's worked, success stories, and also things I find inspirational, including videos, photos, products, and other websites.
As this is a new beginning for me, stepping outside my comfort zone, I ask that you join me in this new adventure. Please let me know what you'd like to hear about, what you'd like to read, etc.
I'm really excited about this, as it feels "right." I've put this off for several years. Now that I'm actually writing a blog, it doesn't feel as scary as I thought.
Hmmm, what have you been putting off that felt very scary? What if it's not as bad as you imagined? What if the only things that were stopping you were your fears and limitations, imagined or real? What if diving with sharks was actually pretty cool and NOT scary?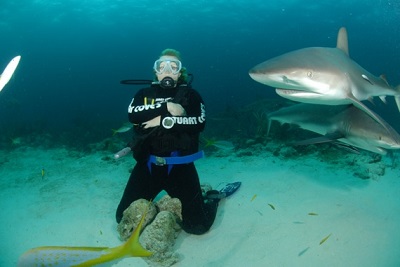 My next few blogs will be about my newest addition, a puppy. Oh, the trials and tribulations, and how I've used tapping to help with house training, integration into our family, and on my overwhelm in taking on a new dog. I can't wait to share these stories with you.
With warm hugs,
Susanne